Original Guide by J_G_. I do not claim credit for this guide.
Custom Quest Guide
To use MHFU custom quests follow the great icyisamu's custom quest guide but...
* Use the
Dual Congalala
download quest instead of the Devil Diablos.
* You MUST be playing in
English
to initiate a MHFU custom quest.
Here is an English Freecheat Version in my opinion it's less buggy than Darkcheat.
2G <-> MHFU Custom Quest Converter
2G <-> MHFU Custom Quest Converter
2G Event Quests for MHFU
Below are 2G's event quests converted for MHFU, follow HotGamerMum's 2G download quest guide to know what quest gives what dummy ticket.
JP Download
EU Download
US Download
Dummy Ticket Translation
a pat file that will translate the dummy tickets, so you know what ticket you will be getting.. there was a byte limit of 5 characters ._.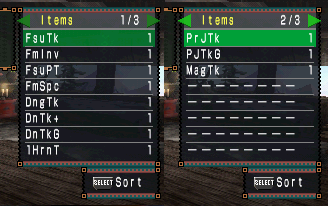 EU Download
US Download
For anyone who's interested here's their full translation:
Team HGG's 2.7 patch
Famitsu Ticket - Required to make Famitsu custom weapons. "Gavas" is written in a corner.

Famitsu Invoice - Famitsu special written order form letter. Gives a sense of extravagance.

Famitsu PT Ticket - Shining Famitsu Platinum Ticket, given only to those who love the hunt.

Famitsu Special Ticket - Ticket required to make Famitsu custom equipment. G class workmanship.

Dengeki Ticket - "Went to an event. Dengeki Game Magazine sends its regards." Polytan.

Dengeki Ticket+ - "How was the event? We should get together some time." Polytan.

Dengeki Ticket G - Ticket awarded to those who successfully completed the Dengeki Trials.

One Horn Ticket - Given to those who braved the "One-Horned Devil" quest. Exchangable for...

Pirate J Ticket - Proof of clearing a JUMP quest. Some designs are etched on it.

Pirate J Ticket G - Proof of clearing a JUMP quest. Contains designs for Jolly Roger equipment.

Magazine Ticket - Proof of completing the Magazine's request. Praise for the Powerful Hunter.
My Quests
My 2G Customs...If you want to try them on MHFU you'll need to convert them to your region.
blueyx: Only download links for Custom Quest Converter and EU/US stuffs are available.
Edited by blueyx, 18 October 2010 - 12:18 AM.